OPHA Capitol Visit Day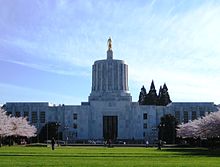 2017 CVD Highlights
APRIL 7, 2017: OPHA had a remarkable presence at the Oregon State Capitol this legislative session thanks to over 120 students, community members, and public health professionals who gathered in support of public health policy in Oregon. Attendees learned about bills being voted on in the 2017 Legislative Session, and met with their Representatives to advocate for public health.
Click here to view more photos* from this year's event.
*Photos courtesy of Layla Garrigues.
Students get firsthand legislative experience during Public Health Week: CPHHS public health club meets with Rep. Dan Rayfield to discuss legislation - Article by Aimee Snyder
"College of Public Health and Human Sciences students recently stepped out of the classroom and into public health advocacy at the Oregon State Capitol.
Members of the student-led Public Health Club took a trip to Salem on April 7 to meet with legislators to discuss important public health issues. Oregon Public Health Association (OPHA) hosts the annual event, which is also part of National Public Health Week.
OPHA provided attendees with information about the law-making process and advocacy training and facilitated a discussion of relevant public health measures before breaking attendees into groups to meet with legislators from their Senate district.
Public Health Club Officer Hannah Tacke and members Emily Baranski and Ashley Chan participated in the event with their advisor and instructor, Aimee Snyder. The women met with Oregon House Rep. Dan Rayfield to discuss House Bill 3276, House Bill 2726 and Senate Bill 558. Tony Lapiz, a CPHHS alum and member of Rep. Rayfield's staff, and intern Ranteg Sandu, a CPHHS student, were also at the meeting."
Click here to read full article.
Event Partners: