2014 OPHA Annual Conference & Meeting - SAVE THE DATE!
When: October 13th & 14th, 2014
Where: Oregon State University - Corvallis, OR
Join us for the 70th Annual Conference and Meeting of OPHA. At OPHA 2014 you'll find the latest in public health research and trends, focused learning sessions, thought-provoking speakers, and plenty of networking opportunities. Highlights include:
Education: More than eighty presentations on key functional areas of public health; facilitated discussion forums to learn from your peers; and an interactive poster session.

Networking Events: Connect with other association and nonprofit executives from around the world during plentiful breaks, receptions, and evening events.

Association Awards: Join OPHA in recognizing Oregon's public health advocates and leaders.

Professional Opportunities, Products and Services: Connect with OPHA Sponsors and visit the new Exhibit Hall.

To learn more about the OPHA Annual Conference & Meeting, please visit http://www.oregonpublichealth.org/opha-conference.
American Public Health Association - 142nd Annual Meeting and Exposition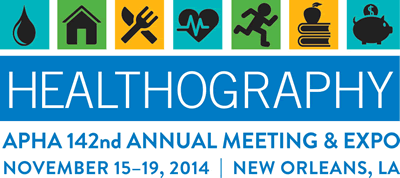 Healthography: How where you live affects your health and well-being
When: November 15-19, 2014
Where: New Orleans, LA |
The APHA Annual Meeting & Exposition attracts more than 13,000 national and international physicians, administrators, nurses, educators, researchers, epidemiologists, and related health specialists. APHA's meeting program addresses current and emerging health science, policy, and practice issues in an effort to prevent disease and promote health. APHA has a world of public health in store for you!
Call for Abstracts - Now Open
Submit an abstract to APHA's 142nd Annual Meeting and Exposition to join more than 13,000 public health professionals from around the globe to network, discuss and share the latest in research and policy.