UPCOMING OPHA EVENTS
2016 OPHA Capitol Visit Day
Registration now open!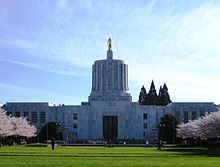 Date: Friday, February 5, 2016
Time: 9:00 AM – 1:30 PM
Check-in and Networking from 8:00 – 9:00 am

Complimentary breakfast snacks will be available to attendees
Location: The Oregon State Capitol - Hearing Room 50
900 Court St. NE
Salem, Oregon 97301
Join the Oregon Public Health Association for our 2016 Capitol Visit Day!
You'll learn about public health related bills that the legislature is working on and how those bills are faring. Guest speakers include, Senator Elizabeth Steiner Hayward, Representative Alyssa Keny-Guyer, and Senator Chuck Riley.
We will coordinate visits with representatives, and you'll have the opportunity to share your views with leadership from the Oregon Senate and House. Don't worry, if this is your first trip to the State Capitol or you need a little extra confidence to speak to your representative we will provide you with some helpful tips and talking points.
*Download Agenda HERE.
*If you are employed by a government agency you are allowed to participate in OPHA Capitol Visit Day as a private citizen, however you will likely need to use personal time. Check with your supervisor to make sure.
We look forward to seeing you in Salem this year for another exciting legislative session! Please visit http://www.oregonpublichealth.org/capitol-visit-day to learn more about this event.
Get Involved!
If you would like to become more involved in OPHA advocacy events or the OPHA Policy Committee, please contact OPHA Policy Committee Chair, Anna Stiefvater.
Click here to learn more about our policy committee and advocacy through OPHA.
Health at Every Size®: The New Peace Movement
Hosted by the Oregon Public Health Association's Health Education & Promotion Section
Date: March 31, 2016
Time: 8:30 am – 4:00 pm; Check-in and networking begins at 8:00am
Location: Kaiser Town Hall
3704 N Interstate Ave
Portland, OR 97227
Facilitators: Dana Sturtevant and Hilary Kinave
Health at Every Size® or HAES is an evidence based paradigm that expresses concern about the health effects of the war against obesity, and switches the focus from weight to health and well-being. The five basic principles of Heath at Every Size (HAES) are weight inclusivity, health enhancement, respectful care, eating for well-being, and life-enhancing movement. Using a combination of therapeutic approaches, including mindfulness, self-compassion, and intuitive eating, HAES can strengthen an individual's commitment to their health and wellness by focusing on quality of life and self-care instead dieting for cosmetic reasons. In this workshop, Hilary Kinavey, MS, LPC and Dana Sturtevant, MS, RD, co-founders of Be Nourished, will review the philosophical approach of HAES, discuss research findings, and explore the practical application of HAES in a clinical setting.
Objectives
At the end of the session attendees will be able to:
Describe the principles of Health at Every Size

Understand the physical and emotional consequences of weight bias in our culture

Explain research findings that are central to HAES

Identify a few practical applications for their work setting
This training is designed to help providers across a variety of practice settings to improve delivery of care for patients who live in larger bodies.
Agenda
Introduction

What is Health at Every Size (HAES)?

Why shift to a HAES paradigm?

You as a Provider

Practical Applications of HAES

HAES Ethical Guidelines

Case Studies

Summary and Next Steps
Download event details and agenda HERE.
Cost:
$60 for OPHA Members

$80 for Non-Members
***Refunds may be subject to a 1% transaction fee. No refunds after March 24th.
Questions? Contact Tracey Smith | traceysmith908@gmail.com
---
Check out the OPHA Events Calendar today to learn about public health events around Oregon and get involved!
LEARNING OPPORTUNITIES
Alzheimer's Association Public Health Webinars
The Alzheimer's Association Oregon Chapter is excited to kick off its webinar series for public health officials!
This series is part of The Healthy Brain Initiative, which envisions a nation in which the public embraces cognitive health as a vital component of health and is committed to its inclusion in public health efforts. To achieve that vision, the long-term goal is to maintain or improve the cognitive performance of all adults.
The Public Health Road Map for State and National Partnerships, 2013-2018 lays out a spectrum of broad actions designed to promote cognitive functioning and address the needs of care partners for pursuit over the next 5 years. The actions are intended as a guide for what state and local public health could do — on their own or with other national, state, and local partners. Agencies are encouraged to select those actions that best fit state and local needs and customize them to match priorities, capabilities, and resources.
The actions are grouped into four domains:
Monitor and Evaluate

Educate and Empower the Nation

Develop Policy and Mobilize Partnerships

Assure a Competent Workforce
Please join the Alzheimer's Association for a one-hour webinar each month to learn about brain health and public health. You can sign up for just one webinar or for multiple webinars — it's your choice! Click here to register for webinars.
2.17 • 11:00 AM - 12:00 PM
Know the Ten Signs: Early Detection Matters
(Nationally Developed Curriculum)
Participants will gain an understanding of the difference between age-related memory loss and Alzheimer's and what to do if they or someone they know has signs of the disease. Video footage of real people who are living with the early stages of dementia and their families will be shown addressing fears and myths associated with Alzheimer's disease. The workshop will cover the following topics: the 10 warning signs, overview of Alzheimer's disease, risk factors, what is involved in getting a diagnosis, benefits of early detection, including accessing available treatment, planning for the future and participating in clinical trials, are also addressed.
3.16 • 11:00 AM - 12:00 PM
Risk Reduction Strategies for Cognitive Decline
Recent surveys indicate Alzheimer's is one of the most feared diseases in the United States. Respondents shared that if they could do something to protect their brain, they would. Learn about some of the latest research trends in regard to reducing risk of developing dementia and how to incorporate this information into current health-promotion strategies.
4.20 • 11:00 AM - 12:00 PM
Healthy Living for Your Brain & Body
(Nationally Developed Curriculum)
For centuries, we've known the health of the brain and the health of the body are connected. But now, science is able to provide insights into how to optimize our physical and cognitive health as we age. Join us to learn about research in the areas of diet and nutrition, exercise, cognitive activity and social engagement — and how to use hands-on tools to help you incorporate this information into a plan for healthy aging. Techniques focus on simple daily activities that will help your brain stay healthy. This presentation is designed to be delivered in a community-based setting for people of any age.
5.18 • 11:00 AM - 12:00 PM
Caregiving & Chronic Disease: Understanding Caregiver Burden
Family caregivers are critical for those living with dementia. In 2014, an estimated 175,000 caregivers in Oregon provided about 199 million hours of unpaid care, valued at more than $2.4 billion. In addition, caregivers in Oregon incurred an estimated $105 million in increased health costs; caregiving can take a physical (in addition to emotional and mental) toll, and caregivers are more likely to develop heart disease, diabetes and other chronic conditions. Learn strategies to address this and other public health issues related to caregiving's impact.
6.22 • 11:00 AM - 12:00 PM
Staying Safe: Challenges & Solutions for Communities
Seventy percent of individuals living with dementia reside in private homes, navigating day-to-day activities. As the disease progresses, those individuals become more impaired — and are more prone to falls, injuries and wandering. In fact, six out of10 people living with dementia will wander at some point. Learn what resources are available and how to incorporate best practices into safety planning and disaster-preparedness efforts.

Click here to register.
Please contact Jenny Herget at jherget@alz.org for more information.
POLICY & ADVOCACY
State Policy Fellowship
Deadline to apply is now Feb. 8
The Oregon Center for Public Policy is a potential host for a 2016 State Policy Fellow. This fellowship is a great opportunity to begin a career in public policy.
Applications are being accepted now. The application deadline has been extended to February 8, 2016.
About the Fellowship:
Making a difference for vulnerable families and communities
State Policy Fellows tackle domestic policy challenges in areas like health care, taxes, anti-poverty policy, education, and criminal justice. Working in independent, highly respected policy organizations located across the country, Fellows analyze the impact of state budget and tax policy choices on low-income residents and promote positive reforms.
Bringing diverse perspectives to state policy debates
To expand the diversity of voices that speak with authority in state policy debates, the program identifies highly qualified candidates with a demonstrated interest in working on public policies affecting low-income and diverse communities and policies with implications for racial equity. A graduate degree in public policy, law, social work, economics, or a similar field is required.
Launching careers
State Policy Fellows spend two years with an influential state policy organization or with one of two Washington, D.C.-based organizations, the Institute on Taxation and Economic Policy (ITEP) or the Center on Budget and Policy Priorities. Fellows research and write analyses on current policy issues; brief policymakers, journalists, and civic leaders; and engage with advocates and community groups.
The Fellowship is a project of the State Priorities Partnership, a national network coordinated by the Center on Budget and Policy Priorities, one of the nation's premier policy institutes. Fellows will travel to Washington, D.C. for training and career development, work with mentors, and have access to ongoing training and opportunities for professional growth.
*A graduate degree in public policy, law, social work, economics, or a similar field is required.
Learn more about the fellowship and how to apply here: http://www.cbpp.org/careers/state-policy-fellowship-program