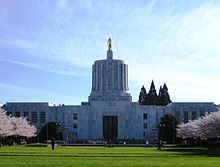 Join us in Salem to represent OPHA for the 2014 Legislative Session!
As a leading voice for public health nurses, doctors and health promotion specialists, OPHA will sponsor an educational and advocacy event at the Capitol. It's your chance to meet Oregon's policy and public health leaders from around the state. You'll learn about the public health related bills that the legislature will be considering during the 2014 legislative session and have the opportunity to share your views with leadership from the Oregon Senate and House, as well as the Governor's office.
2013 Capitol Visit Day - Last Year's Highlights
Last year more than 60 people gathered at the Oregon State Capitol on behalf of OPHA, to educate legislators and Capitol visitors about public health. The policy priority areas for OPHA during the 2013 Legislative Session were tobacco and obesity - two leading preventable causes of death and disability. OPHA also focused on policies that fell into other categories including, but not limited to: creating healthy homes, schools, and jobs; environment; health care; and mental health. Guest speakers included House Leader, Tina Kotek, Senate Majority Leader, Diane Rosenbaum and Senator Laurie Monnes Anderson.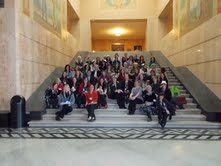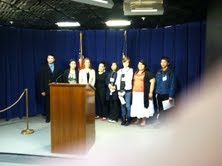 ---
2014 OPHA Policy Endorsements:
Application for Legislative Endorsement by the Oregon Public Health Association now available!
View and download 2014 OPHA Policy Endorsement Application here. - DEADLINE: January 6, 2014
Click here for a description of the OPHA Policy Endorsement Process.
Get Involved!
If you have any questions regarding this event or would like to become more involved in the OPHA Policy Committee, please contact Renee Hackenmiller-Paradis at renee.paradis@comcast.net.
Click here to learn more about our policy committee and advocacy through OPHA.