UPCOMING OPHA EVENTS
2016 OPHA Capitol Visit Day
SAVE THE DATE!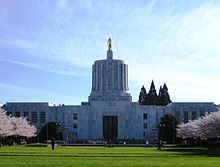 Date: Friday, February 5, 2016
Time: 9:00 AM – 1:30 PM
Location: The Oregon State Capitol - Hearing Room 50
900 Court St. NE
Salem, Oregon 97301
Join the Oregon Public Health Association for our 2016 Capitol Visit Day!
You'll learn about public health related bills that the legislature is working on and how those bills are faring. We will coordinate OPHA member visits with their representatives, and you'll have the opportunity to share your views with leadership from the Oregon Senate and House and the Governor's Office. Download the event flyer here.
OPHA had a remarkable presence at the Oregon State Capitol in 2015 thanks to the 130 students, community members, and public health professionals who gathered in support of public health policy in Oregon. We look forward to seeing you in Salem this year for another exciting legislative session - Stay tuned for more information!
*If you are employed by a government agency you are allowed to participate in OPHA Capitol Visit Day as a private citizen, however you will likely need to use personal time. Check with your supervisor to make sure.
Get Involved!
If you would like to become more involved in OPHA advocacy events or the OPHA Policy Committee, please contact OPHA Policy Committee Chair, Anna Stiefvater.
Click here to learn more about our policy committee and advocacy through OPHA.
2-Day Motivational Interviewing Workshop
What Motivates Change? Translating Theory into Practice
Presented by Dana Sturtevant, MS, RD
Hosted by the Oregon Public Health Association's Health Education & Promotion Section
Date: December 3 & 4, 2015
Time: 8:30 am – 4:00 pm (Check-in and networking begins at 8:00am)
Location: Tabor Space
5441 SE Belmont St
Portland, Oregon 97215
Description: Motivational Interviewing (MI) is an evidence-based clinical counseling method designed for evoking intrinsic motivation for positive behavior change. Originally developed in the drug and alcohol field by William Miller, Ph.D. and Stephen Rollnick, Ph.D., MI is now being widely applied in a variety of settings including health care.
Day One: December 3rd, 2015
At the conclusion of day one, the participant will be able to:
Understand the paradox of change.

Describe the spirit and key principles of Motivational Interviewing.

Use key listening skills: OARS.

Assess a patient's readiness to change.

Provide feedback, information or advice in a motivation-enhancing way.
Content Outline:
Confidence in motivating change

View and debrief video examples of counseling style

Review and discuss motivation-enhancing and resistance-producing behaviors

Practice listening skills to become a more empathic listener

Learn how to best provide feedback, advice, and education

Conclusion and next steps
Day Two: December 4th, 2015
At the conclusion of day two, the participant will be able to:
Describe the four processes of motivational interviewing.

Use complex, forward moving reflective listening statements.

Hear, elicit and support a person's change talk.

Use the "explore, offer, explore" model for exchanging information and planning for change.
Content Outline:
Review major principles, techniques, strategies, and "spirit" of MI

Describe the four processes of MI

Refine reflective listening skills: simple v deep, stabilizing v forward moving reflections

Learn to readily hear, elicit and support "change talk"

Identify and practice techniques for strengthening commitment to and planning for change

Conclusion and next steps
For more information about Dana, visit www.motivatingchange.org.
Registration: Space is limited and participants will be registered on a first-come, first served basis - REGISTER HERE
Cost:
$190 OPHA members

$220 non-members
CHES/MCHES Credits:
Category 1 and/or 2 contact hours (pending approval) will be available at no additional cost.
Lunch and refreshments will be provided.
Questions? Contact: Tracey Smith | traceysmith908@gmail.com
POLICY & ADVOCACY
Get Ready for the 2016 and 2017 State Legislative Sessions!
Legislative Advocacy 101 Panel
Date: Wednesday, December 2, 2015
Time: 6:00 PM to 8: 00 PM
Location: Portland Building, 2nd floor, Auditorium
1120 SW 5th Ave., Portland
Legislative Advocacy 101 will provide community members with tips on how to be effective advocates for their community or neighborhood during the upcoming 2016 and 2017 state legislative sessions and the 114th Congress. A panel of elected officials, congressional staff, and community advocates will share their advice and answer questions about how the community can make an impact on public policy at the state and federal levels.
Panelists:
Oregon State Senator Elizabeth Steiner Hayward (SD 17)

City of Portland Commissioner Amanda Fritz

Johnell Bell, Field Director for U.S. Senator Jeff Merkley

Kayse Jama, Executive Director, Center for Intercultural Organizing (CIO)

Moderator, Martha Pellegrino, Director, City of Portland, Office of Government Relations
Information you will gain from the panel
How to work effectively with legislators and their staff

Strategies for mobilizing your membership base or coalitions to maximize advocacy impact

Lobbying do's and don'ts
Language Accessibility: Spanish and ASL interpretation will be provided at the event.
The City of Portland will make reasonable accommodation for people with disabilities and people needing assistance with language interpretation and translation. Please notify us by Wednesday, November 25 if you need assistance.
PHONE: (503) 823-3093
EMAIL: arolia.mcswain@portlandoregon.gov
TTY: (503) 823-6868
Oregon Relay Service at (800) 735-2900
Transit Access: The event is located on the downtown transit mall next to Yellow, Green, and Orange MAX lines. www.trimet.org
Questions about specific legislative items? Contact the Mayor and City Commissioners
If you have questions about specific legislative issues, please contact City Council Offices. You can find contact information at this link (see photos of Mayor and Commissioners on left side of page): http://www.portlandoregon.gov.
Co-Sponsored by: City of Portland, Office of Neighborhood Involvement, Office of Government Relations, and Office of Commissioner Amanda Fritz
For more information contact:
Arolia McSwain
Office of Neighborhood Involvement (ONI), Community and Neighborhood Involvement Center (CNIC)
PHONE: (503) 823-3093
EMAIL: arolia.mcswain@portlandoregon.gov
---
TOOLS & RESOURCES
Statewide Climate and Health Network
Membership, Resources, Quarterly Conference Calls
Join a new network of local health practitioners and partners across the state who are interested in sharing resources, opportunities and promising practices for integrating climate change considerations into public health practice. Join the listserv HERE.

PURPOSE
The Oregon Climate and Health Network will provide a forum for local public health practitioners and partners to stay connected and apprised of current climate science, health implications, and opportunities for action. It will serve as a forum for sharing information and best practices across various programmatic areas of public health.

The network will include a list serve for e-mail communications and a quarterly conference call that will feature member updates and guest speakers. Oregon's Climate and Health program will manage the list serve and facilitate the conference calls.

NETWORK MEMBERSHIP
The network is open to all those who are interested and will include members in local health departments, other local agencies, state and non-profit partners. We expect members to work in various fields (including environmental health, emergency preparedness, chronic disease prevention, land use, transportation and natural resource planning, social services, etc.) and we also expect members to have different levels of experience and expertise.
Join the Oregon Climate and Health Network HERE.
ADDITIONAL RESOURCES