6th Annual Northwest Environmental Health Conference
Bridging Research, Practice and Policy

When: Tuesday April 8, 2014 (8AM - 5PM)
Where: Portland State University
Smith Memorial Student Union
1825 SW Broadway
Portland, OR 97201
The 6th annual conference will host leading scientists, researchers, and health professionals from across the Pacific Northwest to continue our robust dialogue on the interrelationship between the environment and health and healthcare practices.
2014 Keynote Speaker:
Julia Brody, PhD, is executive director of Silent Spring Institute, an organization that partners with physicians, public health and community advocates and other scientists to identify and break the links between environmental chemicals and women's health, especially breast cancer. Dr. Brody also serves as adjunct assistant professor at the Brown University School of Medicine and is a leader in research on breast cancer and the environment and in community-based research and public engagement in science.
Other workshop topics include:
epigenetics

air quality

messaging training

environmental justice

and more!
Who should attend?
healthcare administrators

public health practitioners

researchers

naturopathic and allopathic practitioners

community organizers

non-profit program managers

students

others interested in understanding how their own areas of practice affect and are affected by environmental and health challenges
Registration Fees - Register online by April 1st
Click here to register now!
*The conference will offer continuing education credits. Click here to learn more.
For more information, please visit www.oeconline.org/nwehc.
The Northwest Environmental Health Conference is co-organized by:
Oregon Environmental Council
Oregon Physicians for Social Responsibility
OPHA Healthy Environments Section
Multnomah County Health Department
Responsible Purchasing Network
National College of Natural Medicine
U.S. Environmental Protection Agency, Region 10
Oregon Public Health Division, Center for Health Protection
OPHA Capitol Visit Day
2014 Highlights
OPHA had a remarkable presence at the Oregon State Capitol last Thursday, February 20th thanks to the 140 students, community members, and public health professionals who gathered in support of public health policy in Oregon. The 2014 OPHA Capitol Visit Day was filled with exciting events including presentations by the Senate President and the House Speaker, a press conference, Capitol tours, advocacy 101 training and thought provoking pubic health policy and funding discussions. Attendees learned about bills being voted on in the 2014 Legislative Session, and met with their Representatives to advocate for public health.
A huge thank you to all the terrific OPHA members and supporters for making this day possible! Click here to read more about the 2014 OPHA Capitol Visit Day.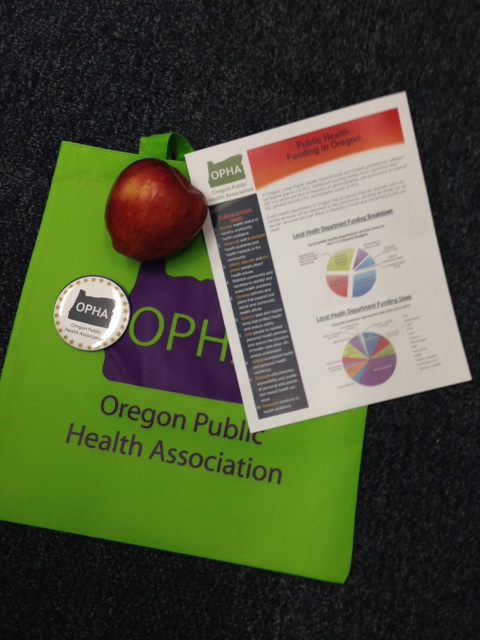 *Additional photos will be made available soon at http://www.oregonpublichealth.org/capitol-visit-day.
2014 OPHA Capitol Visit Day Twitter Contest
Congratulations to the 2014 Capitol Visit Day twitter contest winner, Lori Swain! Lori has been awarded a complimentary registration to the 2014 OPHA Annual Conference and Meeting.
---
Block Gun Violence with Background Checks
Portland Tribune publishes letter to the editor on behalf of OPHA Executive Director, Josie Henderson and President of the National Physicians Alliance, Dr. James P. Scott
We in public health are thoroughly committed to protecting the safety of our communities. The Oregon Public Health Association and the National Physicians Alliance support state and federal efforts to ensure background checks for all gun purchases. Without background checks, guns in the hands of dangerous individuals continue to threaten the safety of our communities.
Click here to read more.
2014 Oregon Public Health Week
SAVE THE DATE!

Dr. Robert Lawrence Presents
Food for Thought: How a high meat diet impacts our health, the environment and the food supply
Download full event flyer here.
When: Wednesday, April 9th, 2014 (6:00-8:00 PM)
Where: OHSU - Old Library Auditorium
3181 S.W. Sam Jackson Park Rd.
Portland, Oregon 97239-3098
FREE EVENT: Everyone Welcome! Click here to RSVP now.
*If you require ADA accommodations to attend this event, please call 971-673-2965 by April 1, 2014.
Robert S. Lawrence, MD is the Center for a Livable Future Professor in the Department of Environmental Health Sciences at the Johns Hopkins Bloomberg School of Public Health with joint appointments as Professor of Health Policy, International Health, and Medicine. He is the founding Director of the Johns Hopkins Center for a Livable Future, which supports research and develops policies related to the public health impacts of industrial food animal production, improving food security, and adopting healthier diets.
Dr. Lawrence will provide an in depth look at the following:
US meat consumption and the adverse effects this has on our health, the health of our environment, and the sustainability of a diverse food system.

The health impacts of a high meat diet and how this leads to the displacement from a diet of adequate quantities of whole grains, fruits, and vegetables.

Health hazards that have been introduced in the meat due to the industrialization of production methods for raising animals for food.
2014 Public Health Week Partners:

Please visit http://www.oregonpublichealth.org/public-health-week for more information about this event, or click here to view the Oregon Public Health Week online events calendar.
If you would like to learn more about National Public Health Week, please visit http://www.nphw.org/.
---
Oregon Public Health Week: Call for Events
With the help of coordinating efforts from the Oregon Health Authority, OPHA will be coordinating the state wide events calendar for all Public Health Week events in Oregon. Please let us know if you have an upcoming event planned or know about any public health events in your area, we would love to help spread the word!

Events can be submitted online at http://www.oregonpublichealth.org/events (bottom of page). Please try to include as much information as possible along with a link to the event details.
UPCOMING PUBLIC HEALTH EVENTS:
OPHA Networking Event
Please join us Wednesday, March 12th for breakfast!
When: Wednesday, March 12th, 2014
8:00 AM - 9:30 AM
Where: Portland State Office Building (PSOB) - Room 1C
800 NE Oregon Street, Portland, OR 97232
Who: All are welcome!
OPHA is comprised of students, health educators, doctors, nurses, researchers, professors, community leaders, and citizens from all walks of life who share a commitment to public health in Oregon.
Stop by and say HI!
Please join us on Wednesday, March 12th from 8:00 am - 9:30 am for a cup of coffee and a breakfast snack on your way to work, school, or wherever your day may take you. We would love to meet you and learn more about what you do in Oregon public health. If you would like to learn more about our organization or how to become more involved, we will also have information available on the following:
Health Policy and Advocacy

Upcoming Events - Public Health Week: April 7th - 13th

Networking and Building Partnerships
Happy Hour event for Health Professionals
When: Thursday, March 20th 2014
5:00pm to 7:00pm
Where: Lucky Labrador Brew Pub
915 SE Hawthorne Blvd.
Portland OR, 97214
Why: Healthcare in Oregon is changing rapidly!
How is it affecting you? Topics such as; Meaningful Use, Scope of Practice, Best Practices, Measuring Outcomes, Staff Training….etc. Come share stories, ask others questions, and connect with other professionals in the trenches – all while sharing a brew.
Who: All health professionals are invited to attend.
If you have any questions regarding this event, please contact Virginia Chambers at 971-722-2544 or virginia.chambers@pcc.edu
---
Check out the OPHA Events Calendar to learn about public health events around Oregon and get involved!