UPCOMING EVENTS
MOVIE SCREENING
Sick Around the World: Other Rich Countries Have Universal Health Care; Why Don't We?
Join us for a FREE public showing of this PBS documentary about health care in other developed countries.
WHEN: Wednesday, May 24, 2017
WHERE: Velo Cult*
1969 NE 42 Avenue (just north of Sandy Blvd)
Portland, OR
T.R. Reid examines first-hand how other advanced capitalist democracies -- United Kingdom, Japan, Germany, Taiwan and Switzerland -- deliver health care and what the United States might learn from their successes and their failures.
Event Sponsors:
Oregon Public Health Association

Health Care for All Oregon

Oregon Physicians for a National Health Program

Portland Democratic Socialists of America, Health Care Work Group

One Small Thing Portland
Questions? Contact: Ken Rosenberg | rosenbergkd@yahoo.com
*Velo Cult is a bicycle repair shop with a restaurant, bar, and space for community-oriented activities.
---
WEBINAR
Healthy Communities: An Assessment and Implementation Framework to Achieve Inclusion of Persons with Disabilities
The Oregon Office on Disability and Health in partnership with the Oregon Public Health Association's Disability Section and PSU/OHSU's School of Public Health is hosting a live webinar – "Healthy Communities: An Assessment and Implementation Framework to Achieve Inclusion of Persons with Disabilities" May 30, 2017 at 10:00 – 11:15am PDT.
Guest speakers include:
Yochai Eisenberg, MUPP, Senior Research Specialist, Center on Health Promotion Research for Persons with Disabilities, Institute on Disability and Human Development, University of Illinois at Chicago; Affiliate, National Center on Health, and Physical Activity and Disability, Birmingham, Alabama
Darrin Umbarger

, Founder of Clearview Mediation and Disabilities Services, Pendleton, OR

Joseph Lowe

, Program Analyst, Aging & People with Disabilities, DHS

Mac Gillespie

, Healthy Communities Coordinator, Benton County Health Dept.
In this webinar, Yochai Eisenberg, MUPP, will describe the importance of recognizing persons with disability as a demographic group that experiences health disparities and introduce an assessment and implementation framework to drive public health action. The Community Health Inclusion Index (CHII) is the first instrument to operationalize community health inclusion into a comprehensive assessment tool that can be used by public health professionals and community coalitions to examine the critical supports needed to improve healthy, active living among persons with disability. Mr. Eisenberg will highlight lessons learned from demonstration projects in Oregon and nationally that have utilized the CHII and best practices for successful implementation.
Learning Objectives
After watching this webinar participants will be able to:
Recognize persons with disability as a demographic group that experience health disparities;
Identify two ways a community health assessment tool can guide the development of community health improvement plans that integrate inclusive policy, systems and environmental strategies;
Describe two ways environmental factors have a unique impact on community participation and access to healthy lifestyle opportunities for persons with disability; and
Understand the steps taking place in Oregon at the state and local levels, to promote healthy lifestyle for Oregonians with disabilities.
This webinar has been approved for 1 CPH CE credit. Live Captioning will be provided.
SAVE THE DATE: 2017 OPHA Annual Conference & Meeting
Early Bird Registration opens in August
When: Monday, October 9th & Tuesday, October 10th, 2017
Where: LaSells Stewart Center, Oregon State University, Corvallis, OR
The OPHA Annual Conference & Meeting is the premier public health event in Oregon. Since 1944 public health leaders, professionals, educators, advocates, students and stakeholders have come together to share the latest in research, programs, and information. Join us for this important, informative, and inspiring public health event!
At OPHA 2017 you'll find the latest in public health research and trends, focused learning sessions, thought-provoking speakers, and plenty of networking opportunities. Highlights include:
Education:

Over 100 presentations on key functional areas of public health; facilitated discussion forums to learn from your peers; and an interactive poster session. Continuing education credits will be available - Stay tuned for more information!
Networking Events:

Connect with other public health professionals and stakeholders from around the Northwest during plentiful breaks, receptions, and evening events.

Association Awards:

Join OPHA in recognizing Oregon's public health advocates and leaders.
Professional Opportunities, Products & Services:

Connect with OPHA Sponsors and visit the Exhibit Hall.
OPHA 2017 Keynote Speakers: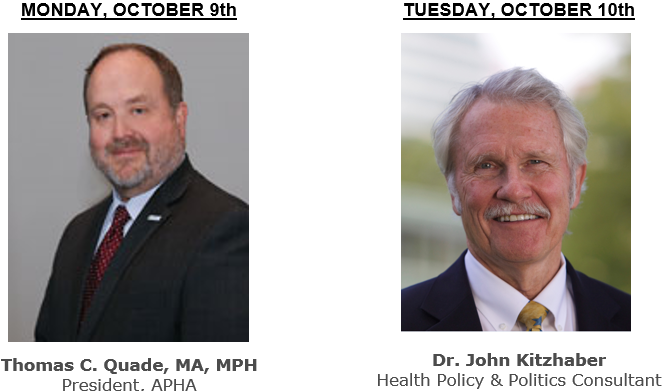 OPHA 2017 Closing Plenary Panel:
Social Determinants of Health through the Lens of Equity and Social Justice
OPHA 2017 will conclude with a thought provoking panel discussion on equity and social justice. Panelists will provide their expertise on how social determinants relating to housing, reproductive health, environmental exposures, and food insecurity can impact the overall health of Oregonians.
Learn more about this exciting event at http://www.oregonpublichealth.org/opha-conference.
ANNOUNCEMENTS
2017 OPHA Annual Conference & Meeting
CALL FOR ABSTRACT SUBMISSIONS: May 1 - June 12
The Oregon Public Health Association invites proposals for our 73rd Annual Conference & Meeting. OPHA 2017 will feature keynote speeches by APHA President, Thomas C. Quade, MA, MPH and Dr. John Kitzhaber, more than 100 presentations on key areas of public health, networking opportunities, exhibitors, and much more!
Abstract submissions are now being accepted through June 12, 2017. Abstracts addressing all public health topics are welcome and presenters should seek to make connections between research, policy and practice.
What presentation formats will be considered?
Individual Oral Presentation:

Oral presentations are 10-15 minutes in length. Three presentations, grouped by themes, will be presented in each session. Additional time will be allotted by a session moderator for Q&A and discussion.

Poster:

Posters are visual presentations that present current research, case studies, and community-based projects displayed on 8' x 4' bulletin boards. During the Poster Session, presenters stand next to their displays to explain content and answer questions. The poster session is scheduled for Monday, October 9th from 4-6pm.

Panel Discussion:

A panel includes a moderator and/or discussant and up to three panelists. Panel discussions are 75 minutes in length and include time for Q&A and discussion. Due to time constraints only a limited number of panel discussions will be accepted. Please note, you must submit an additional abstract for each presentation in a panel discussion in order for the proposal to be reviewed. No exceptions will be made.
Instructions: To submit an abstract, carefully read the Abstract Submission Guidelines and complete the Abstract Submission Form. All sections of the abstract submission form must be fully completed following the guideline specifications for consideration.
Deadline for abstract submissions is

June 12, 2017

. No abstracts will be accepted after this date.
Abstracts will be peer reviewed and accepted on the basis of selection criteria (see Abstract Submission Guidelines).
Presenters will be notified in August.
All presenters must be available to present at any time during the two days of the conference.
***You do not need to be a member of OPHA to present at the conference. However, all presenters for individual oral presentations, panel discussions and posters must register for the conference. No exceptions will be made.
Questions? Contact Marie Harvey, OPHA Program Committee Chair at Marie.Harvey@oregonstate.edu.
2017 OPHA Call for Nominations
Directors and Committee Members Sought
This is your opportunity to strengthen OPHA! We need committed and innovative leaders to replace outgoing board members. New board members will have the opportunity to sustain OPHA's success as a strong Oregon public health advocate, partner, and leader.
Open positions for the 2017 election include:
PRESIDENT-ELECT:

One (1) person from any location. In October 2018, the President-elect becomes OPHA President, and in 2019 OPHA Past-President.
DIRECTORS-AT-LARGE: Two (2) members from any location.
REGION 4 REPRESENTATIVE: One (1) member to represent: (Eastern Oregon) – Baker, Crook, Deschutes, Gilliam, Grant, Harney, Jefferson, Klamath, Lake, Malheur, Morrow, Sherman, Umatilla, Union, Wallowa, Wasco, and Wheeler Counties. You must reside in one of these counties to run for this position.
NOMINATIONS COMMITTEE: three (3) members from any location.
Commitment:
All positions are 3-year commitments (October 2017-October 2020) except for the Nominating Committee which is a 1-year commitment. All nominees must be OPHA members in good standing (member dues paid).
Email your intent to run and your completed candidate statement by August 1 to the Nominating Committee Chair:
Sandra Bean: Sandra.j.bean.or@gmail.com
The written candidate statement must include:
Name and contact information – address, email, phone
Current affiliation or profession
Brief statement written in first person explaining why the nominee would like to run for a leadership position (100 words or less)
Brief bio-sketch written in third person (200 words or less)
Questions? Contact Jessica Nischik-Long, OPHA Executive Director at jnischik.opha@gmail.com or 503-719-5600.